This Month's Clinical Focus: Gastroenterology

Tofacitinib Helps in Ulcerative Colitis



The oral JAK inhibitor tofacitinib, currently under FDA review for treating rheumatoid arthritis, also showed promise for ulcerative colitis in a randomized trial, researchers said

. The drug was generally well tolerated but was associated with elevations in LDL and HDL cholesterol.

With 194 patients assigned to receive the drug or placebo in the dose-ranging phase II trial, nearly 80% of those given the highest dose -- 15 mg twice daily -- obtained a clinical response in 8 weeks, compared with 42% of the placebo group, according to William J. Sandborn, MD, of the University of California San Diego, and colleagues.

Clinical remission was seen in up to 48% of patients taking tofacitinib; just 10% of the placebo group achieved remission, they reported in the Aug. 16 issue of the New England Journal of Medicine.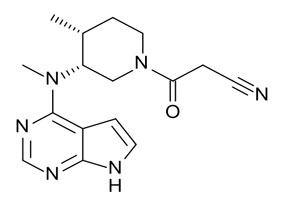 Side effects appeared generally similar to those seen in the drug's arthritis studies, the researchers indicated.

By inhibiting the JAK-1 and JAK-3 Janus kinase enzymes, tofacitinib (formerly known as CP-690,550) is believed to block activity of six interleukin species that, in turn, promote activation of T and B cells involved in autoimmune diseases. In addition to showing strong clinical activity in rheumatoid arthritis, the drug has also been effective in small trials in psoriasis and organ transplant rejection. Sandborn and colleagues wrote that, "although the importance of the JAK family in the pathogenesis of ulcerative colitis is unclear," they thought it would be worthwhile to test tofacitinib for this indication.

The 194 patients were randomized in a ratio of 3:2:2:2:3: to placebo or 0.5, 3, 10, or 15 mg of tofacitinib twice a day for 8 weeks. Patients with moderate to severe active ulcerative colitis were eligible, with disease severity assessed with the Mayo scoring system. Use of oral mesalamine or prednisone was permitted during the study, but more powerful immunosuppressant medications such as azathioprine or methotrexate had to be discontinued.

Clinical response was defined as a decrease of 3 or more points on the 12-point Mayo scale and a relative decrease from baseline in Mayo scores of at least 30%. Also required was a decrease of at least 1 point in the rectal bleeding subscore or an absolute rectal bleeding subscore of 0 or 1.

Each of the three higher tofacitinib dosage groups had remission rates significantly higher than the placebo group (P<0.01 or less).
Similar patterns were seen for endoscopic responses and remission and for blood levels of C-reactive protein, Sandborn and colleagues indicated.

Most patients in the study experienced some type of adverse effect, although the most common were symptoms of ulcerative colitis. The most commonly reported adverse events related to infection were influenza and nasopharyngitis. Serious infections -- a concern with tofacitinib, on the basis of the rheumatoid arthritis trials -- were seen in two study participants, both in the 10-mg group. Other serious adverse events were not more common with the drug than with placebo.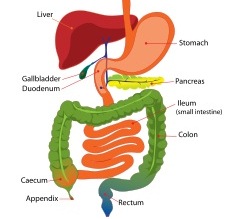 Another side effect of tofacitinib seen in the arthritis trials was elevations in LDL and HDL cholesterol. These were less noticeable in the current study.

The placebo group had a mean decline of 3.5 mg/dL in LDL cholesterol (SD 21.3), with no clear pattern in the four tofacitinib groups. Patients taking the lowest dosage had a mean increase of 10.7 mg/dL (SD 37.8) but those in the 10- and 15-mg group had a decrease of 5.8 mg/dL (SD 21.8) and an increase of 1.5 mg/dL (SD 19.3), respectively.

Mean HDL levels increased in all groups, including the placebo group, with no major differences -- the smallest mean increases (0.9 mg/dL) were seen with the highest drug doses.

In three patients, infection risk and cholesterol elevations seemed to go together, the researchers reported. These patients had decreases in neutrophil counts to less than 1,500 per mm3 as well as increases in both HDL and LDL cholesterol, although liver enzymes, serum creatinine, and hemoglobin levels remained stable.

"The clinical consequences of these laboratory abnormalities require further study," Sandborn and colleagues wrote. In fact, they indicated that, overall, the trial didn't provide a clear picture of the drug's side-effect profile in the ulcerative colitis population.

"The small size and short duration of the trial did not allow for a comprehensive assessment of the safety and tolerability of the drug in patients with ulcerative colitis," they wrote.

Tofacitinib's developer, Pfizer, has submitted the drug to the FDA as a treatment for rheumatoid arthritis. An advisory committee recommended in May that the drug be approved, and the agency was scheduled to issue a decision by August 21.

However, in late July, Pfizer announced that the FDA had requested additional data analyses, such that the company expected the decision to be delayed.
Source: John Gever, Senior Editor, MedPage Today - Published: August 15, 2012 New England Journal of Medicine; Source reference:
Sandborn W, et al "Tofacitinib, an oral janus kinase inhibitor, in active ulcerative colitis" New Engl J Med 2012; 367: 616-24.
If you want to

accelerate

your clinical trials,
you need to change the workflow paradigm:
Criterium knows resources are precious, time is the enemy, and results are paramount. Information Management done right is the key to successful trials. Our user-friendly technologies are integrated into all aspects of our clinical development services for improved efficiencies. And a talented in-house staff that is committed to the professional support of our clients' individual and particular needs is the backbone of our processes for maximum client outcomes.
We have managed successful clinical trials for

over 20 years!
As an AGILE Global CRO, we have worked in a very WIDE RANGE of THERAPEUTIC indications, and now, with our newly acquired and expanded Oncology CRO: "CORE Science Solutions" we are:
"Changing The Way Cancer is Managed"
We have several proprietary technology solutions that are
proven
to improve your clinical trial results.
WHAT'S NEW AT CRITERIUM:
Current Enrolling Global Studies:
NEW: Ph II Pancreatic Cancer
NEW: Ph I/II Myeloma
NEW: Ph II Infectious Disease
Ph IV Dermatology - NEW IND
Ph II Hematology - PK-PD
Ph IV Burn Wound Study
Ph II CNS (Alzheimers)
Ph III Hemophilia
Ph III Peds Otitis Media
Ph IV Hypogonadal Men (Testosterone)
OUR RESEARCH LIBRARY...
...is your access to continuing current information on successful clinical trials
---
OUR WHITE PAPERS
Critical Clinical Research Factors in the Down Economy
By Lawrence Reiter, Ph.D.
The Evolution of the Data Management Role: The Clinical Data Liaison
By Mary Stefanzick
India: A Target-Rich Environment
By Ronny Schnel
---
OUR VIDEOS
Addressing the Challenge of Finding Investigators for Clinical Trials
Featuring Kabelo Pududu
The Clinical Data Liaison: The Key to Better, Faster Clinical Trials
Featuring John M. Hudak
---
OUR PODCASTS
NEW! Criterium Inc at the Q1 Conference Featuring John M. Hudak
The Site-Centric CRO: Best Practices
Featuring Ed Jahn, Clinical Ops Specialist & Jaime Hudak, CDL
The Clinical Data Liaison: The Key to Better, Faster Clinical Trials
Featuring John M. Hudak
Agile Clinical Trials and the Use of Real-Time Data
Featuring John M. Hudak
---
OUR PUBLICATIONS
No Longer Lost In Translation
- Dr. Gavin Leong
PharmaVOICE Magazine
Maintaining Clinical Operations: It's Just Good Business
PharmaVoice View on Clinical Operations
EDC Implementation
- Greg Bailey
PharmaVOICE, View on E-Solutions
Going Global
- John M. Hudak
Future Pharmaceuticals
Trials Limber Up
- John M. Hudak
International Clinical Trials Magazine
---
OUR PRESENTATION
Criterium Capabilities Presentation
---
OUR BROCHURE
About Criterium Inc. Criterium Inc. www.criteriuminc.com is a global, full-service, technology-driven contract research organization that offers a unique mix of high-quality, innovative clinical research solutions for the biopharmaceutical, pharmaceutical, medical device, and CRO industries.