Meet Us at: ASCO ANNUAL
MAY 29 -JUN 2 in Chicago IL





CALL Ronny Schnel, Exec. Dir. BD
at 310-619-6691 to CONNECT with Us!

<
This Month's Clinical Focus:
<
<
ONCOLOGY BREAKTHROUGHS
>
Docetaxel Helps Cancer Patients Live Two Years Longer
Metastatic prostate cancer patients who receive standard hormone treatment along with docetaxel chemotherapy may live up to two years longer, according to clinical trial results from an ongoing study.
Cardiff and Warwick University researchers used 2,692 participants in the study. The men in the study received four different types of treatment: Standard of Care (SOC), consisting of three years of androgen deprivation therapy with local radiation, SOC along with six doses of docetaxel, SOC with zoledronic acid for two years, and SOC with zoledronic acid and docetaxel. Sixty percent of patients in the study were metastatic, meaning that the cancer had spread from one organ to another.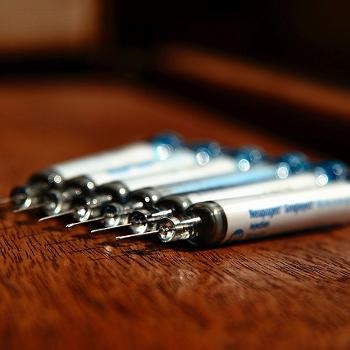 When researchers conducted a median follow-up with patients after 42 months, they found 948 men had died. But in the overall study, the men who were given docetaxel along with SOC on average lived 10 months longer, whereas patients whose cancer had spread lived an average of 22 months longer. The zoledronic acid did not affect survival, which prompted researchers to conclude that it should no longer be given for future treatment. Researchers will present the findings at the annual meeting of the American Society of Clinical Oncology in Chicago on May 31. "To see a 22-month survival advantage off six lots of treatment given several years earlier is a very big benefit. We are very pleased by it," said Professor Nicholas James, study researcher from Warwick University, the BBC reported.

The form of chemotherapy administered, docetaxel, is generally a drug given to patients after the normal hormone treatment has failed. Doxetaxel is relatively cheap because the drug is out of patent, which would bode well for patients who need it to prolong their lives. Researchers plan to monitor patients for any future side effects, which they said should be "manageable." While research is ongoing, they highlighted the need for the UK's National Health Service to take action.

"In prostate cancer it has been used at a much more advanced stage of the illness, for some years — now we know that this chemotherapy should be added earlier, in fact as soon as hormone therapy starts," said study researcher Professor Malcolm Mason, from Cardiff University.

The American Cancer Society estimates that in 2015, 220,800 new cases of prostate cancer will emerge. It's the second leading cause of cancer death in American men, following lung cancer. One in seven American men will get prostate cancer in their lifetime. However, it's a disease that doesn't always claim its victims. In fact, more than 2.9 million prostate cancer survivors are still alive."

Source: By Christopher Cruz - Displayed with permission from Medical Daily via RePubHub.com

---
Read more about how targeted treatments and translational science research methods are creating better outcomes for patients with cancer:

---
Adaptive Biotechnologies' immunoSEQ® Assay Provides Groundbreaking Insight into T-Cell Fate

Contrary to previous thinking, the results show that different types of T cells often descend from a common ancestor. These findings are a groundbreaking advance in the understanding of adaptive immunity and its potential role in pathogenic response.

The study, led by Thomas S. Kupper, MD, Harvard Skin Disease Research Center, Department of Dermatology, Brigham and Women's Hospital, Boston, Ma., determined how different types of memory T cells work together to fight a pathogen. "Previous studies have suggested that naive T cells have followed a 'one cell, one fate' paradigm; where a naive T cell can only become one type of memory cell after antigen stimulation," said Kupper. "Unlike previous thinking, these findings are consistent with a 'one cell, more than one fate' paradigm. The immune system builds two different anatomic compartments of immune memory from the same precursor T cells. The immunoSEQ Assay, which allowed simultaneous tracking of thousands of naturally occurring T cells, enabled this important observation."

In the study, Adaptive's immunoSEQ Assay was used to comprehensively characterize the antigen-reactive T-cell repertoires in non-transgenic mice exposed to multiple antigens to interrogate cell fate in naturally occurring T-cell immune responses. Harlan Robins, Chief Scientific Officer and Co-founder of Adaptive Biotechnologies and study author, said, "The more we learn about how T cells differentiate and mature the closer we are to understanding their role in pathogenic response."

The study data can also be accessed through Adaptive's Published Projects. Adaptive is building the world's first immunosequencing community, starting with Published Projects, an open-access interactive collection of immunoSEQ project data that enables researchers to leverage shared intelligence.

Source: Displayed with permission from PR Newswire via RePubHub.com

---
WHAT'S NEW AT CRITERIUM:
Current Global Studies:
Critical Limb Ischemia / Ph II
Leukemia/Lymphoma / Ph IIa
Necrotizing Fasciitis / Ph III
NSCLC / Ph II
Breast CA with Brain Mets / Ph II

SEE ALL OUR STUDIES
OUR RESEARCH LIBRARY...
...is your access to continuing current information on successful clinical trials
---
FOLLOW OUR POSTS
See ALL POSTS at our BLOG


Other Gene Tests for Cancer


FDA Halozyme Update


New Allergy Treatment Helps 80% of Kids


Top 5 Breakthroughs in Lung Cancer

---
WATCH OUR VIDEOS
Airport Network - One Minute with Criterium CRO on Excellence in Clinical Trials
Featured at Travellers Hubs in US Airports
The Clinical Data Liaison: The Key to Better, Faster Clinical Trials
Featuring John M. Hudak
---
LISTEN to OUR PODCASTS
CNN Interview with John Hudak Featured at Travellers Hubs in US Airports
Criterium Celebrates 20 Years at the Q1 Conference Featuring John M. Hudak
The Site-Centric CRO: Best Practices for Excellent Site Relationships
Featuring Ed Jahn, Clinical Ops Specialist & Jaime Hudak, CDL
The Clinical Data Liaison: The Key to Better, Faster Clinical Trials
Featuring John M. Hudak
Agile Clinical Trials and the Use of Real-Time Data
Featuring John M. Hudak
---
READ OUR PUBLICATIONS
NEW WHITEPAPER!

Translational Science in Oncology for Better Cancer Treatment - John S. Macdonald, MD


Advantages of the Clinical Research Environment in South Africa
- Dr. Gavin Leong, & Karen Mallalieu, Sr CTA
Journal for Clinical Studies


The Evolution of the Data Management Role: The Clinical Data Liaison
- Mary Stefanzick


Critical Clinical Research Factors in the Down Economy - Lawrence Reiter, Ph.D


No Longer Lost In Translation
- Dr. Gavin Leong PharmaVOICE Magazine
Maintaining Clinical Operations: It's Just Good Business PharmaVoice View on Clinical Operations


EDC Implementation
- Greg Bailey PharmaVOICE, View on E-Solutions

---
VIEW OUR PRESENTATION
---
DOWNLOAD OUR BROCHURE
---
ACCESS MORE RESOURCES:

Clinical Trial Oversight Summit:
June 1-3 Boston MA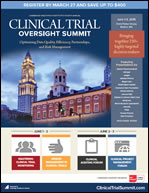 LINK TO CONFERENCE PROGRAM

---
If you want to accelerate
your clinical trials, you need
to change the workflow paradigm.
Criterium knows resources are precious, time is the enemy, and results are paramount.

Information Management done right is the key to successful trials. Our user-friendly technologies are integrated into all aspects of our clinical development services for improved trial efficiencies.

We have a talented in-house staff committed to the professional support of our clients' specific needs. It is the backbone of our processes creating maximum client outcomes.
We have managed successful clinical trials for

over 20 years!
As a small and AGILE Global CRO,
we have worked in a very WIDE RANGE of THERAPEUTIC indications, and now, with our expanded Oncology Consortia we are "Changing The Way Cancer is Managed"

We have several
proprietary technology solutions that are
proven to improve your
clinical trial results.

Contact: John Hudak, President at jmhudak@criteriuminc.com