Meet Us at: CNS Clinical Trial Forum
Nov 2-3 in Bethesda MD
CALL Ronny Schnel, Exec. Dir. BD at
310-619-6691 to set up a time!

<
This Month's Clinical Focus:
NEUROLOGY
>

RegeneRx's TB4 Shown to Significantly Limit Brain Damage After Stroke by Upregulating microRNA
-200a
TB4 Increases Stem Cell Survival and Differentiation.
RegeneRx, a clinical-stage drug development company focused on tissue protection, repair and regeneration, announced a new scientific publication in the most recent issue of the Journal of Neurochemistry describing how Thymosin beta 4 (TB4) reduces neurological injury following a stroke by up-regulating the expression of microRNA-200a (miR-200a).

The authors found that miR-200a, a very short and specific piece of RNA, is increased in the presence of TB4 in an in vitro stroke model, as well as when TB4 is administered systemically in a similar model. This increased miR-200a results in the down-regulation of a number of proteins that can negatively affect the repair of damaged tissue, in this case central nervous system tissue around the area damaged by the stroke.
The research team's previous data demonstrated that TB4 treatment induces myelin basic protein synthesis and oligodendrogenesis by up-regulation of p38 MAPK. Such signaling induces remyelination (creation of new myelin sheaths) of axons of injured neurons and increases migration of newly generated neuro progenitor cells (immature cells that differentiate into target cells). This current study further defines the mechanism of action TB4 in tissue protection and repair in the brain.

According to the authors of the paper, "Our findings of miR-200a-mediated protection of progenitor cells may provide a new therapeutic importance for the treatment of neurological injury."

The research was performed in the Departments of Neurology and Emergency Medicine at the Henry Ford Health System in Detroit, MI and the Department of Physics at Oakland University in Rochester, MI and published in the Journal of Neurochemistry, 2015 Oct 14. doi: 10.1111/jnc.13394. [Epub ahead of print].

To read more about RegeneRx Biopharmaceuticals, Inc. please visit www.regenerx.com.
Source: With permission from PRNewswire via RePubHub: http://repubhub.icopyright.net/freePost.act?tag=3.7537?icx_id=8547541&urs=REPUBHUB
---
Microglia: A New Direction for Studying and Treating Depression
A paper by Israeli brain researchers suggests a new direction for studying and treating depression.
Prof. Raz Yirmiya, who heads Hebrew University's psychoneuroimmunology laboratory, is the senior author of a new paper, " Depression as a microglial disease," published in the October issue of Trends in Neurosciences. The paper urges a new focus in depression research away from neurons, the cells that make up the brain's thinking faculties and allow it to control the body, and toward brain cells called microglia.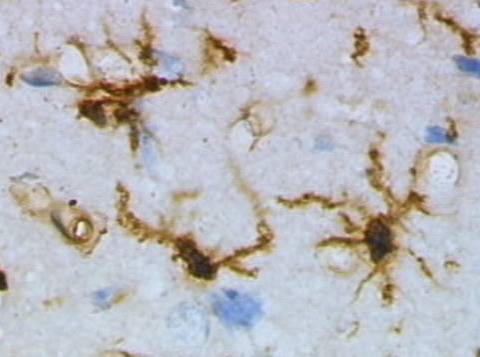 About 10 percent of brain cells are microglia, which serve as a kind of infrastructure for the brain, holding neurons in place, passing oxygen and other nutrients to them and fighting brain infections.
Microglia play a special role in repairing brain damage and trauma to neurons, the researchers note. "Our views on microglia have dramatically changed over the last decade," Yirmiya said in a Thursday statement by Hebrew University.

"We now know that these cells play a role in the formation and fine-tuning of the connections between neurons [known as synapses] during brain development, as well as in changes [to] these connections throughout life. These roles are important for normal brain and behavioral functions, including pain, mood and cognitive abilities."

According to Yirmiya, who wrote the paper together with fellow Hebrew University researchers Neta Rimmerman and Ronen Reshef, "Studies in humans, using post-mortem brain tissues or special imaging techniques, as well as studies in animal models of depression, demonstrated that when the structure and function of microglia change, these cells can no longer regulate normal brain and behavior processes and this can lead to depression."

Major depression "afflicts one in six people at some point in their life," the university's statement on the new research noted, and is "the leading global cause of disability – surpassing cardiovascular and respiratory diseases, cancer and HIV/AIDS combined."

Changes in microglia are found in patients with conditions that correlate with high instances of depression, including "infection, injury, trauma, aging, autoimmune diseases such as multiple sclerosis and neurodegenerative diseases such as Alzheimer's disease," the statement explains. Microglia in these conditions take on an "activated" state, growing larger and round while secreting chemicals that lead to inflammation in the brain.

Microglia also change their shape and functioning when exposed to chronic unpredictable psychological stress, which is one of the leading causes of depression. Such conditions have also been found – in research carried out in Yirmiya's Hebrew University laboratory – to correlate with microglia dying and remaining cells appearing shrunken and degenerated.

Drugs that inhibit overactive microglia or stimulate suppressed microglia may be the key to dramatic new treatments, they argue. New drugs that restore function to diseased microglia, the researchers suggest, may turn out to be as effective as current fast-acting anti-depressants.

"Prof. Yirmiya's new research could have a profound impact on the future development of anti-depressant medications. Present drugs do not always have the desired effect on patients, so there is an urgent need to discover novel biological mechanisms and drug targets for diagnosing the root cause of depression and for treating depressed patients appropriately,".
Source: Displayed with permission from Times of Israel via RePubHub: http://repubhub.icopyright.net/freePost.act?tag=3.15607?icx_id=60210820&urs=REPUBHUB
---
WHAT'S NEW AT CRITERIUM:
Current Global Studies:
Critical Limb Ischemia / Ph II
Leukemia/Lymphoma / Ph IIa
Necrotizing Fasciitis / Ph III
NSCLC / Ph II
Breast CA with Brain Mets / Ph II

SEE ALL OUR STUDIES
OUR RESEARCH LIBRARY...
...is your access to continuing current information on successful clinical trials
---
FOLLOW OUR POSTS
See ALL POSTS at our BLOG

Case Study in Hematology

2nd Cancers On The Rise, But It's A Good Thing

HIV Uses Immune System to Supress Itself

Lung Cancer Research Outside the USA
---
WATCH OUR VIDEOS
Airport Network - One Minute with Criterium CRO on Excellence in Clinical Trials
Featured at Travellers Hubs in US Airports

The Clinical Data Liaison: The Key to Better, Faster Clinical Trials
Featuring John M. Hudak
---
LISTEN to OUR PODCASTS
CNN Interview with John Hudak
Featured at Travellers Hubs in US Airports
Criterium Celebrates 20 Years
Featuring John M. Hudak
The Site-Centric CRO: Best Practices for Excellent Site Relationships
Featuring Ed Jahn, Clinical Ops Specialist & Jaime Hudak, CDL
The Clinical Data Liaison: Better, Faster Trials
Featuring John M. Hudak
Agile Clinical Trials and Real-Time Data
Featuring John M. Hudak
---
READ OUR PUBLICATIONS
The Evolution of the Data Management Role: The Clinical Data Liaison Mary Stefanzick

Critical Clinical Research Factors in the Down Economy Lawrence Reiter, Ph.D

No Longer Lost In Translation
Dr. Gavin Leong in PharmaVOICE Magazine
Maintaining Clinical Operations: It's Just Good Business PharmaVoice View on Clinical Operations

EDC Implementation
Greg Bailey in PharmaVOICE, View on E-Solutions

Going Global
John M. Hudak in Future Pharmaceuticals

Trials Limber Up
John M. Hudak in Int'l Clinical Trials Magazine
---
VIEW OUR PRESENTATION
---
DOWNLOAD OUR BROCHURE
---
MORE RESOURCES
CLINICAL TRIALS of the FUTURE Initiative


Bringing together experts in clinical trials, technology and other relevant disciplines
---

ACCELERATE your clinical trials CHANGE the workflow paradigm

Resources are precious, time is the enemy, and results are paramount.
We have managed successful clinical trials for

over 20 years!
- Information Management done right
- User-friendly technologies
- Improved trial efficiencies
- Talented, committed in-house staff
Proprietary technology solutions
proven to improve your
clinical trial results.

- MAXIMUM client outcomes
- Small and AGILE Global CRO
- WIDE RANGE of Indications
- Expanded Oncology Consortia

Contact: John Hudak, President at jmhudak@criteriuminc.com