MEET US at the 17th Annual
Int'l Lung Cancer Congress
Aug 4-6 Huntington Beach,CA
CALL Ronny Schnel 310-619-6691

<
This Month's Clinical Focus:
>
<
Infectious Disease & Vaccines
>
New Alzheimer's Vaccine Could Be As Common As The Flu Shot
A new study suggests that a vaccine for the condition could become a reality in as little as five years
The study comes from researchers at Flinders University in Adelaide Australia in partnership with a ­research team at the Institute of Molecular Medicine, and University of California, Irvine. Although the exact pathology of Alzheimer's is not clear, scientists know that two proteins in the brain, amyloid-beta (a-beta) and tau, play an important role. When these proteins die, they can build up into plaques and block connections between brain nerve cells. Autopsies have shown that these plaques are always present in the brains of deceased Alzheimer's patients, although it is not clear if there are other underlying processes also contributing to the disease. The vaccine would address this protein buildup.

"Essentially what we have designed is a vaccine that makes the immune system produce antibodies and those antibodies act like tow trucks so they come to your driveway, they latch on to the breakdown protein or car and they pull it out of the driveway," said Flinders University medicine professor Nikolai Petrovsky, ABC News reported.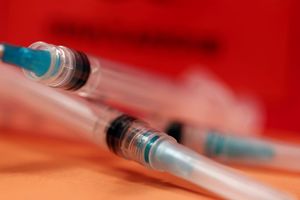 In animal studies, the antibodies work best to block a-beta before the subjects have developed the disease. Interestingly, the antibodies are effective at reversing the buildup of tau proteins once the disease has already progressed. At this moment, the vaccine is still not yet ready for human trials, but according to Petrovsky, "given the demand for a vaccine, if we show it is successful in the early stages we expect this will be pulled through and turned into product very, very quickly.

"At the moment, the problem with the experimental Alzheimer's vaccine is not making sure the vaccine works, but ensuring that it is strong enough to actually make a difference in a patient's health. However, if this hurdle is addressed then the vaccine could be used as a preventative treatment in as little as five years and be given to people at around 50 years of age when they are perfectly fine to stop them developing dementia, The Australian reported.

Source: Davtyan H, Zagorski K, Rajapaksha H, et al. Alzheimer's Disease AdvaxCpG- Adjuvanted MultiTEP-Based Dual and Single Vaccines Induce High-Titer Antibodies Against Various Forms of Tau and Aβ Pathological Molecules. Nature's Scientific Reports. 2016.

Displayed with permission from Medical Daily; Photo courtesy of: Debora Cartagena, USCDCP (CC0) READ FULL ARTICLE HERE: RePubHub
---
The rise of a dangerous gene in bacteria could mean the end of the golden age of antibiotics
Experts at a military lab outside Washington intensified their search for evidence that a dangerous new biological threat had penetrated the nation's borders.
A team working at the Walter Reed Army Institute of Research here had its first look at a sample of the bacterium Escherichia coli taken from a 49-year-old woman in Pennsylvania. She had a urinary tract infection with a disconcerting knack for surviving the assaults of antibiotic medications. Her sample was one of six from across the country delivered to the lab of microbiologist Patrick McGann.

<![if !vml]>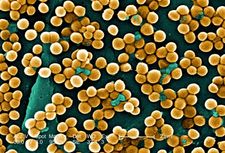 <![endif]>Within hours, a preliminary analysis deepened concern at the lab. Over the next several days, more sophisticated genetic sleuthing confirmed McGann's worst fears. There in the bacterium's DNA was a gene dubbed mcr-1. Its presence made the pathogen impervious to the venerable antibiotic colistin. More ominous, the gene's presence on a plasmid — a tiny mobile loop of DNA that can be readily snapped off and attached to other bacteria — suggested that it could readily jump to other E. coli bacteria or to entirely different forms of disease-causing organisms. That would make them impervious to colistin as well.

It was a milestone public health officials have been anticipating for years. In a steady march, disease-causing microbes have evolved ways to evade the bulwark of medications used to treat bacterial infections. For a variety of those illnesses, only colistin continued to work every time. Now this last line of defense had been breached as well.

A second U.S. case of E. coli with the mcr-1 resistance gene was reported this month in the journal Antimicrobial Agents and Chemotherapy. Researchers are still working to determine whether it, or any of 18 other samples from around the world, contained the gene on an easy-to-spread plasmid.

The golden age of antibiotics appears to be coming to an end, its demise hastened by a combination of medical, social and economic factors. For decades, these drugs made it easy for doctors to treat infections and injuries. Now, common ailments are regaining the power to kill.

Each year, more than 2 million people in the U.S. are infected with a bacterium that has become resistant to one or more antibiotic medication designed to kill it, according to the federal Centers for Disease Control and Prevention. At least 23,000 people die as a direct result of antibiotic-resistant infections, and many more die from other conditions that were complicated by an antibiotic-resistant infection, the agency says.

As medicines such as tetracycline, erythromycin and vancomycin lost much of their effectiveness, colistin continued to overwhelm trouble-making bacteria such as salmonella, klebsiella and E. coli. Colistin is toxic to the human kidney, and doctors largely stopped using it in the 1970s when safer medications became available. But now that so many antibiotics have lost their ability to vanquish E. coli and other bacterial invaders, colistin has become the only hope for some desperate patients.

Source: Displayed with permission from the Los Angeles Times; Photo courtesy of: Janice Haney Carr, Jeff Hageman, M.H.S, USCDCP (CC0)
READ FULL ARTICLE HERE: RePubHub
---
All Images are CC0 Creative Commons re-use licensing provided by www.public-domain-image.com
---
WHAT'S NEW AT CRITERIUM:
Current Global Studies:
Ph II Recurrent or Metastatic SCC-HNS
Ph II Refractory ALK Rearranged NSCLC
Ph IIa Leukemia/Lymphoma
Ph III Necrotizing Fasciitis
Ph II NSCLC
Ph II Breast CA with Brain Mets

SEE ALL OUR STUDIES
OUR RESEARCH LIBRARY...
...is your access to continuing current information on successful clinical trials
---
FOLLOW OUR POSTS
See ALL POSTS at our BLOG

NASA Scientist Helps Develop Med Device

New Drug Holds Promise Against Zika

Outsourcing & Strategic Partnerships

Obese People Still Think They Are Healthy

---
WATCH OUR VIDEOS
Airport Network - One Minute with Criterium CRO on Excellence in Clinical Trials
Featured at Travellers Hubs in US Airports

The Clinical Data Liaison: The Key to Better, Faster Clinical Trials
Featuring John M. Hudak
---
LISTEN to OUR PODCASTS
CNN Interview with John Hudak
Featured at Travellers Hubs in US Airports
Criterium Celebrates 20 Years
Featuring John M. Hudak
The Site-Centric CRO: Best Practices for Excellent Site Relationships
Featuring Ed Jahn, Clinical Ops Specialist & Jaime Hudak, CDL
The Clinical Data Liaison: Better, Faster Trials
Featuring John M. Hudak
Agile Clinical Trials and Real-Time Data
Featuring John M. Hudak
---
READ OUR PUBLICATIONS
The Evolution of the Data Management Role: The Clinical Data Liaison Mary Stefanzick

Critical Clinical Research Factors in the Down Economy Lawrence Reiter, Ph.D

No Longer Lost In Translation
Dr. Gavin Leong in PharmaVOICE Magazine
Maintaining Clinical Operations: It's Just Good Business PharmaVoice View on Clinical Operations

EDC Implementation
Greg Bailey in PharmaVOICE, View on E-Solutions

Going Global
John M. Hudak in Future Pharmaceuticals

Trials Limber Up
John M. Hudak in Int'l Clinical Trials Magazine
---
VIEW OUR PRESENTATION
---
DOWNLOAD OUR BROCHURE
---
MORE RESOURCES:
11th NY Lung Cancer Symposium


PLAN AHEAD - Meet Us There!
November 12, 2016 New York, NY
Call Ronny Schnel 310-619-6691
---

ACCELERATE your clinical trials CHANGE the workflow paradigm

Resources are precious, time is the enemy, and results are paramount.
We have managed successful clinical trials for

over 20 years!
- Information Management done right
- User-friendly technologies
- Improved trial efficiencies
- Talented, committed in-house staff
Proprietary technology solutions
proven to improve your
clinical trial results.

- MAXIMUM client outcomes
- Small and AGILE Global CRO
- WIDE RANGE of Indications
- Expanded Oncology Consortia

Contact: John Hudak, President at jmhudak@criteriuminc.com