MEET US at the CNS Summit
Oct 27-30th in Boca Raton FL
CALL Ronny Schnel 310-619-6691

<
This Month's Clinical Focus:
>
<
STEM CELL RESEARCH
>
Enzyme Contributing To Resistant Childhood Brain Tumors Identified
Researchers have identified a potential way to treat these cancers with certain drugs that could make them less resistent to chemotherapy.
A normally protective enzyme called FBW7 can help tumors spread and make childhood brain cancers more resistant to treatment when it becomes deactivated, according to a new study.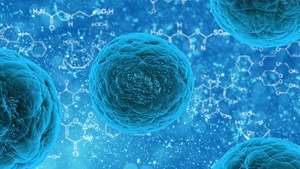 The joint discovery was made by research teams from Karolinska Institutet and Uppsala University. "We have shown that when FBW7 is functionally inactivated this leads to a block of degradation of the stem cell protein SOX9 which becomes more stable in the brain cancer cells," Aldwin Suryo Rahmanto, lead author of the study from the department of cell and molecular biology at Karolinska, said.

After examining the stem cell protein levels in 140 patients with childhood brain tumors, researchers discovered the tumors with higher levels of the protein spread more easily. "We believe this is a central mechanism for different types of cancer since an independent research team at the Rutgers Cancer Institute of New Jersey... recently published similar results as ours, but instead in colon, skin and lung tumors," noted Fredrik Swartling, research group leader at Uppsala University and one of the two principal investigators for the study.

Researchers replicated in a lab experiment the process where SOX9 becomes stable in a brain tumor. The results showed SOX9 turned on 40 to 50 genes within the tumor, causing it to become increasingly resistant to a standard treatment and more vulnerable to spread. "We also identified a way to de-stabilize the SOX9 protein by treating the brain cancer cells with small molecular drugs, which made them less resistant to chemotherapy again," Olle Sangfelt, the second principal investigator of the study and research group leader at Karolinska Institutet, remarked.

Different childhood brain tumors have various levels of SOX9, despite belonging to the same cancer type. If tumors with high levels of SOX9 could be identified, the drugs being tested could potentially prevent the spread of tumors in these patients and be more responsive to chemotherapy.

Read more: Brain Tumors And Cell Phone Use Found To Be Linked (Again)

Source: Rahmanto A, Savov S, Brunner A, Bolin S,Weishaupt H, Malyukova A, Rosén G, Čančer M, Hutter S, Sundstrom A, Kawauchi D, Jones D, Spruck C, Taylor M, Cho Y, Pfister S, Kool M, Korshunov A, Swartling F, Sangfelt O. FBW7 suppression leads to SOX9 stabilization and increased malignancy in medulloblastoma. EMBO Journal. 2016

By Mitchell Chamberlain; Displayed with permission from Medical Daily; Image courtesy of Pixabay, CC00 License READ FULL ARTICLE HERE: RePubHub
---
Stem Cell Therapies - Global Trends in the Competitive, Technological and R&D Landscape
GBI Research's latest report, "Stem Cell Therapies - Global Trends in the Competitive, Technological and R&D Landscape" provides an in-depth assessment of the current trends in the global stem cell therapy sector.
Along extensive secondary research efforts, GBI research conducted a targeted industry survey of experts and key opinion leaders in the stem cell therapies field to gather opinions on the global trends and future commercial prospects of the stem cell therapies market. The findings from the reviewed literature were measured against the results of the industry survey, and internal research, to provide an objective view of the market that is comprehensive in outlook.

Stem cell therapies are one of the largest segments of the regenerative medicine market, even when non-therapeutic applications of stem cells are excluded. This rapidly growing sector offers a number of opportunities to both biotechnology and <![if !vml]>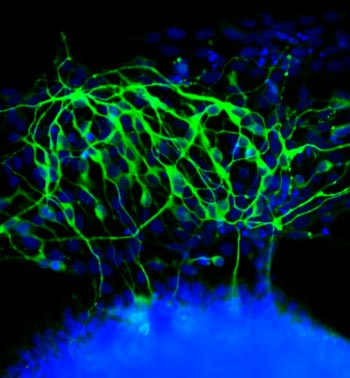 <![endif]>pharmaceutical companies seeking to diversify away from traditional pharmacological compositions and towards a more therapeutic approach, similar to the successful arrival of targeted biologic therapies before the turn of the century. Stem cell therapy represents a very promising platform for clinical advancements in areas where current pharmacological and surgical treatment options are not effective.

Stem cells grown on a soft surface begin to transform into neurons. Credit: Kiessling Lab, University of Wisconsin-Madison, courtesy NIH.

These therapies have been in development for human therapeutic use for many decades and there has been steady progress in clinical research, with a few products having already entered the market. Moreover, information leveraged from our robust industry-leading database shows a diverse range of stem cell therapies currently in development for a wide range of indications, with some of these progressing to the later stages of clinical development. Over 15 therapy areas are being targeted by the stem cell industry in over 1,000 clinical trials, our study shows.

Converting the scientific potential of stem cell technology into real therapeutic value still represents a significant challenge, however. The stem cells field is still surrounded by a wide variety of scientific, technological, legal and ethical challenges, and suitability for commercial usage has been rather slow to attain. If stem cell therapies are to realize their full commercial potential manufacturers will need to adopt novel and comprehensive strategies to overcome these challenges.

Download the full report: https://www.reportbuyer.com/product/4009890

READ FULL ARTICLE HERE: RePubHub
---
Image credits: NIH Public Domain; CC0 Creative Commons re-use licensing provided by www.pixabay.com
---
WHAT'S NEW AT CRITERIUM:
Current Global Studies:
Ph II Recurrent or Metastatic SCC-HNS
Ph II Refractory ALK Rearranged NSCLC
Ph IIa Leukemia/Lymphoma
Ph III Necrotizing Fasciitis
Ph II NSCLC
Ph II Breast CA with Brain Mets

SEE OUR STUDIES
OUR RESEARCH LIBRARY...
...is your access to continuing current information on successful clinical trials
---
FOLLOW OUR POSTS
See ALL POSTS at our BLOG

Most Women Are Confused About Cancer Screenings

New York City Rats are Disease Sponges

NASA Scientist Helps Develop Med Device

New Drug Holds Promise Against Zika

---
WATCH OUR VIDEOS
Airport Network - One Minute with Criterium CRO on Excellence in Clinical Trials
Featured at Travellers Hubs in US Airports

The Clinical Data Liaison: The Key to Better, Faster Clinical Trials
Featuring John M. Hudak
---
LISTEN to OUR PODCASTS
CNN Interview with John Hudak
Featured at Travellers Hubs in US Airports
Criterium Celebrates 20 Years
Featuring John M. Hudak
The Site-Centric CRO: Best Practices for Excellent Site Relationships
Featuring Ed Jahn, Clinical Ops Specialist & Jaime Hudak, CDL
The Clinical Data Liaison: Better, Faster Trials
Featuring John M. Hudak
Agile Clinical Trials and Real-Time Data
Featuring John M. Hudak
---
READ OUR PUBLICATIONS
The Evolution of the Data Management Role: The Clinical Data Liaison Mary Stefanzick

Critical Clinical Research Factors in the Down Economy Lawrence Reiter, Ph.D

No Longer Lost In Translation
Dr. Gavin Leong in PharmaVOICE Magazine
Maintaining Clinical Operations: It's Just Good Business PharmaVoice View on Clinical Operations

EDC Implementation
Greg Bailey in PharmaVOICE, View on E-Solutions

Going Global
John M. Hudak in Future Pharmaceuticals

Trials Limber Up
John M. Hudak in Int'l Clinical Trials Magazine
---
VIEW OUR PRESENTATION
---
DOWNLOAD OUR BROCHURE
---
MORE RESOURCES:

ACAAI 2016 Meeting


Amer College of Asthma, Allergy & Immunology
Nov. 10-14 San Francisco, CA
Call Ronny Schnel 310-619-6691

---
---

ACCELERATE your clinical trials CHANGE the workflow paradigm

Resources are precious, time is the enemy, and results are paramount.
We have managed successful clinical trials for

over 20 years!
- Information Management done right
- User-friendly technologies
- Improved trial efficiencies
- Talented, committed in-house staff
Proprietary technology solutions
proven to improve your
clinical trial results.

- MAXIMUM client outcomes
- Small and AGILE Global CRO
- WIDE RANGE of Indications
- Expanded Oncology Consortia

Contact: John Hudak, President at jmhudak@criteriuminc.com